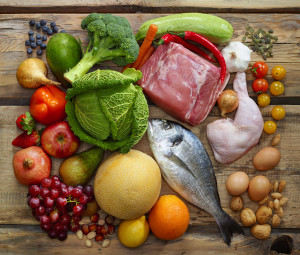 I typically eat unprocessed whole foods like fruits, vegetables, nuts and meat, but when I am away from home and on the go I'll reach for one of these snack bars:
Epic – Bison, Bacon and Cranberry Bar

For hydrating my body through a busy work day, I like the taste of:
ZICO – Pure Premium Coconut Water
Often, when I get home from work, I'll drink a green smoothie blended by my:
Green Smoothie Recipe:
One cup of water, one cup of baby spinach leaves, one whole banana, and one cup of mixed frozen mango/pineapple pieces.  As recommended by Dr. Terry Wahls, I added 1/4 teaspoon of organic kelp powder from Starwest Botanicals to boost the iodine level in my diet. Our white blood cells use iodine when attacking bacteria, cancer cells, and viruses.  Both doctors Terry Wahls and William Davis suggest that as a population we are iodine deficient. According to Dr. Wahls, it will help to clear away Lyme disease. p 170.    Kelp is loaded with valuable vitamins, minerals, and it can be harvested in a sustainable way.
When I'm out in the Sun for an extended stay like at the ocean or mountain lake, I use:
Honest Sunscreen Lotion   This ranked as one of the most effective and least toxic sunscreens on the market according to EWG' s 2015 Guide to Sunscreens.  This lotion is labeled as non-toxic to coral reefs too. You can get access to EWG's sunscreen ratings by clicking here for the post entitled Sunlight for Health.
Other product ideas:
Boost  – a chocolate flavored nutritional drink suitable for patients with celiac disease.
Boost – a strawberry flavored nutritional drink.
Athletic Greens – a natural super food from New Zealand that was designed to be quickly absorbed and provide increased energy.
Wild Red Alaskan Sockeye Salmon from Vital Choice.  By purchasing this product you are helping those who defend our wild salmon fisheries. Click here to the see the nutritional profile of wild salmon vs farm raised.
The Breach – a movie about our wild salmon fisheries.
Onnit Hemp Force ChocoMaca – a great source of protein from the plant kingdom (more).
Earthing half-sheet – to better understand the benefits click here.
Hurley P60 Glitch Board Shorts 
Otterbox Defender Case for iPhone 6
Books:
Energy Victory: Winning the War on Terror by Breaking Free of Oil  by Robert Zubrin
Holistic Management: A New Framework for Decision Making  by Allan Savory
The Hormone Reset Diet: Heal Your Metabolism To Lose Up To 15 Pounds in 21 Days by Sara Gottfried, M.D.
The Market Gardener: A Successful Grower's Handbook for Small-Scale Organic Farming   by Jean-Martin Fortier
The Vitamin D Solution: A 3-Step Strategy to Cure Our Most Common Health Problem by Michael F. Holick, Ph.D., M.D.
Women, Food, and Desire: Embrace Your Cravings, Make Peace with Food, Reclaim Your Body  by Alexandra Jamieson
Salt Sugar Fat: How the Food Giants Hooked Us  by Michael Moss
Household Products:
Oxiclean Stain Remover, 5 Pounds
Office Products:
Remanufactured Ink Cartridge Replacement for Canon PG 210XL (3 Black 3 Pack)
If you like the convenience of ordering through Amazon, I have provided a link.  I will receive a small commission on the sale.