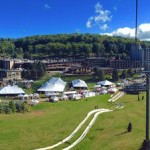 Recently Seven Springs Mountain Resorts, in Champion, PA., hosted their sixth annual Mother Earth News Fair. The fair included 277 exhibitors, 180 presentations spread out across twelve stages throughout the property, 43 authors signing their books, and an estimated 18,000 visitors at the fair. The event took place both indoors at their convention center and outdoors over three consecutive fun and sun filled days that began on Friday, September 18.
The topics covered a wide range of sustainability demonstrations, projects,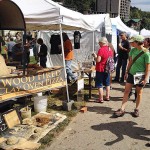 products, concerns, and culinary treats. The range included the processing of live chickens from the humane slaughter to butchering into a finished product; the transforming of large metal sea containers into livable spaces; preparing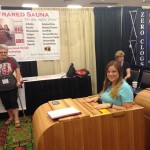 beehives for the winter; the health benefits of an infrared sauna; the health risk of eating GMO foods; to the tasting of creamy chocolate fudge made from goat's milk, and much more than can be described in this brief summation.
As Andrew Perkins from Ogden Publications said it best, "People all over the world are looking for solutions to the sustainability puzzle and the participants in our Mother Earth News Fairs are the sorts of people who help, in myriad ways, to make our existence on this miraculous planet not only ecologically sound but prosperous and enjoyable."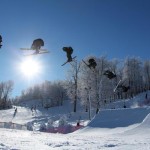 If you like the look and feel of a rustic winter lodge combined with fine dining and evening entertainment, then the Seven Springs' slope side hotel is the perfect location and one of my favorites. During the winter months, their slopes and trails provide some of the best mid-Atlantic region skiing and may even rival some of those I have traversed in West.
I look forward to next year's MENF@7Springs, hope to see you there, and let's keep sustainable ideas foremost in our thoughts!
Click here for a Mother Earth News Sustainability Fair near you.
Click here to view schedule of events at Seven Springs Mountain Resorts